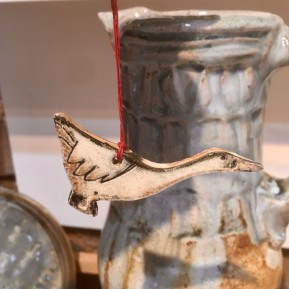 Wobage Makers Gallery is open Thursdays, Fridays and Saturdays, 10am-5pm up until Christmas. We close for business this year at 5pm on Thursday 23rd December.
Our Gallery is spacious and well-ventilated, and packed full of fresh stock for Christmas. Please join us for a quiet browse away from the bustle of the High Streets, a natter with one of the Wobage makers, coffee and a home-made mince-pie. HR9 7QP.
Please don't be alarmed by the local road closure. Our B road is closed at the top of the junction with the A449 Ledbury Road. From the M50, please simply follow the diversion signs via the Phocle Green B-Road where you'll arrive at the Moody Cow Pub. Simply turn left here at the T-junction, down the hill past the 'Road Closed' sign. The Wobage entrance is on the left side as you come back up the hill.
We very much look forward to seeing you. Buy local this Christmas and support your local community of artists. Thank you.