Wednesday, April 6th, 2016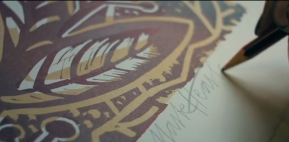 Through the crowd funding process of KICKSTARTER…  Film maker, Moss Davis will now be able to go ahead with this exciting project. The initial baseline fund of £1,500 has now been reached, which is absolutely fantastic.
Phoebe Clive, owner of TINSMITHS in  the local town of Ledbury has been instrumnetal in believing and valuing,  the integrity and artistic quality  of Martin Clarkes' Printers, so much so, that she has backed this filming project and believes it  merits archiving. Phoebe has also commissioned a short film to celebrate her current Exhibition at Tinsmiths …. a collaboration between printer Martin Clarke and Artist/Printmaker Mark Hearld.  This short is beautifully filmed by Moss …but then we would say so, wouldn't we! Here you can see the style of  Moss' filming.   So please do take a look at the Kickstarter information, and support this worthy venture click here and visit Tinsmiths shop to view the current Exhibition, of Mark Hearld, Artist/designer and Paul Young, potter. To view Moss's other work browse SingularityFilm.