Friday, May 27th, 2011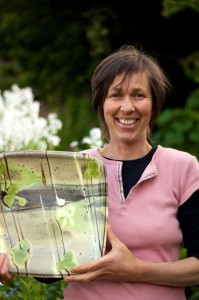 This weekend, Saturday 28th May, the Wobage makers warmly invite you to the opening of our Summer exhibition. Celebrating Patia's 20th anniversary at the studios, we will be exhibiting in the 'cathedral' barn as well as the main Makers Gallery. New pots from hot kilns, new indigo dye embroidered fabrics from Clare McGarva in France, a magnificent king-sized ripple ash double bed & a large round brown oak table by Ben Casson and new sculpture from Lucy Casson.
Please join us for coffee and cake or a glass of local award-winning 'Springherne' perry; made from the rare, ancient and majestic pear trees of the Wobage orchard.
The exhibition continues daily 10am – 5pm for nine days, until Sunday June 5th. We look forward to seeing you.