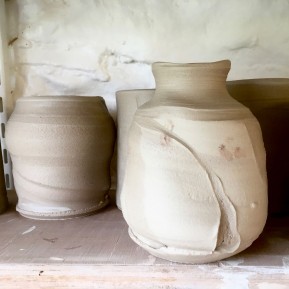 Hey lovely mudslingers
Yes, we have three courses now available for booking for 2022. As we approach the shortest day with another dark dreary morning, I am already yearning for Petra's yummy lunches under the Wobage canopy and long Summer evenings.
By popular demand, we start the season with 'Clay-Brainstorming', This course seeks to provide ideas for risk taking and creating new outcomes. Students will be encouraged and supported by Jeremy to explore specific exercises to brainstorm, invent and expand upon new work.
'Lidded' replaces the Teapot and Jar-making courses of previous years. Students will be encouraged to experiment with different scale and style of vessel. A strong emphasis will be placed upon developing different configurations for lids and galleries, and there are many to keep us entertained! Intermediates may prefer to develop jars and casseroles, whilst those with more experience may wish to work exclusively on teapots.
'Big Improvers' is designed for makers to develop more advanced techniques in wheel-throwing. We are delighted to welcome Jack Welbourne, to tutor alongside Jeremy for the final two days of this course. Jeremy and Jack will demonstrate and provide one to one tutorial, in a range of techniques in throwing and assembling larger forms. We guarantee that we will improve your skills in throwing more clay, more comfortably. We will begin with techniques in single piece throwing and move on to various methods of multi-part throwing and assembling. This will include multi-part wet throwing, a method often coined 'Carolinian Capping', as well as 'Coil and Throw'.
We can't wait to welcome students to the throwing studio next Summer. Whether or not you've been part of the Wobage mudslinging community in previous years, we guarantee you plenty of fun and creative challenge in 2022.