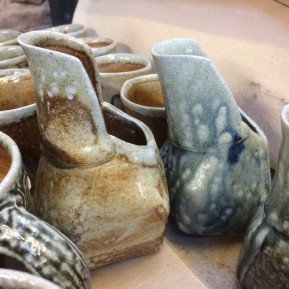 The Wobage Gallery is looking absolutely fantastic for Christmas, and is brimming with top quality stock from all our resident makers.
Patia has a fabulous and diverse range of stock in both Slip-decorated Earthenware, and Porcelain. Petra has been busy in the pottery once again, making her unique range of slab-built domestic ware, wood salt-fired alongside Jeremy's wheel-thrown stoneware. Pet has also been prolific in the Print Shed in Madley, Jill Barnaby's communal print workshop, where she has been printing a selection of collographs, complimenting her pots perfectly.
New to the Gallery this year, is Nina Casson McGarva's wonderful and contemporary glass jewellery. Abstract shapes and careful juxtaposition of colour, make each pendant and pair of ear-rings a unique gift. Also on show, Kitchenwood and furniture by Ben Casson, Wildwicker baskets by Clyde Hoare, pots by Andrew & Clare McGarva and Sheila Herring, Jewellery by Clair Hodgson.
The Gallery is open Thursdays, Fridays and Saturdays, 10am-5pm, up until Saturday 21st December 2020. BUY LOCAL, BUY HAND-MADE THIS CHRISTMAS! Please join us, the makers,  for a natter, some fresh tea or coffee and a home-made mince-pie.
Wobage Makers Gallery, Upton Bishop, Ross-on-Wye, Herefordshire. HR9 7QP. 01989 780495.