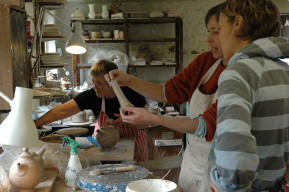 We are excited to announce that our programme of Pottery Courses for 2018 is now fully published and available for booking. Jeremy will host two Beginners in Wheel-Throwing stoneware, each two days in duration. The first Thurs./Fri. 22nd/23rd March and the second Thurs./Fri. 28th/29th June.
Jeremy will also host two Improvers, for intermediate and advanced throwers. The first is a three and half day focusing on Jars and Teapots; lids, galleries and spherical form: Tuesday – Friday 3rd – 6th July. The second is a three and half day focusing on Jugs and upright form: Thursday – Sunday 26th – 29th July.
Patia will host her four-day Earthenware Slip-decoration course, Thursday – Sunday 12th – 15th July.
The first Beginners in March, and Patia's Earthenware Slip course have only a handful of places remaining between them, so to secure a place on either of these you'll need to be quick!
A half-day Wheel-throwing Taster session in September which falls during our  h'Art Open Studios and WAM '18 (Wobage Artisan Market), will be advertised later in the season.