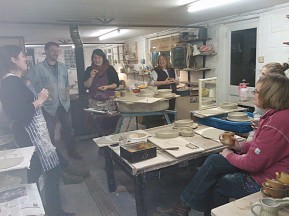 We've had two late cancellations for our sought-after Tuesday and Wednesday evening classes, and therefore, we are able to offer part-term availability for a new student to join each class. There are a limited 8 places available on each course, and with existing students being offered priority of place for subsequent terms, new places arise infrequently. You'll find further details on the evening classes here. Remaining term dates for Tuesday's class follow. For Patia's term dates, please contact her individually via the evening class page. Sorry for the terrible quality of pic' above. It's a phone snapshot taken by a mud'n'water luddite, but at least it's authentic!…from Tuesday evening tea-break, delicious home-made lemon drizzle cake, and some tasty thrown and altered dishes mid-process in the foreground.
Tuesday evenings:
Week 3 –  22nd Jan.
Week 4 – 29th Jan.
Week 5 – 5th Feb.
no class 12th Feb. (Monmouthshire & Gloucestershire Half Term)
no class 19th Feb. (Herefordshire & Worcestershire Half Term)
Week 6 – 26th Feb.
Week 7 – 5th March
Week 8 – 12th March
Week 9 – 19th March
Week 10 – 26th March