Thursday, September 8th, 2011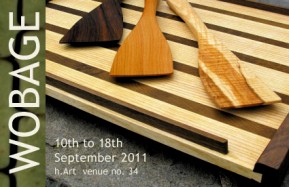 The makers at Wobage warmly welcome you to the opening of our Autumn Exhibition of pottery, wood, jewellery and sculpture, in conjunction with Herefordshire's Art Week. Please join us on the evening of Friday 9th September, for a glass of locally produced wine, or a 'Springherne' sparkling perry, made from pears harvested from the Wobage orchard. Alternatively, the exhibition then continues from Saturday 10th – Sunday 18th September 10am – 5pm.
h.Art is Herefordshire's Open Studios tenth event, giving you exclusive access to artists' studios, workshops and special exhibitions. This year there are 103 fantastic venues spread across the whole county and borders. It is the perfect opportunity to meet the makers in relaxed surroundings, learn about their techniques and inspiration and perhaps buy an original artwork. For further information, pick up a pink brochure during your visit to Wobage, or visit the h'Art website.