Matthew Blakely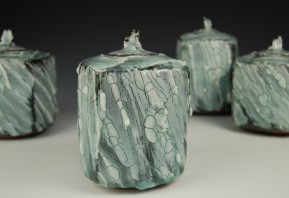 Born in the UK, Matthew emigrated to Australia in 1988, where he studied at the National Art School in Sydney winning the State Medal in 1993. He moved from his first workshop in Sydney to the mid-north coast of New South Wales in 1997. Here Matt built workshop and gallery, making ranges of tableware and woodfired pots in porcelain and stoneware.
Moving back to the UK in 2002, he once more set up workshop and kilns near his current home in Lode, Cambridgeshire. Wobage is delighted to welcome Matt to the 2012 course programme. He will join us for demonstration and glaze lecture during the Porcelain course at the end of June. Here he explains his current exploration of ideas and pot-making:
"I have always had a rather 'split personality' approach to my work, making very pure white translucent porcelain pots and much less refined woodfired pots, which are in some ways polar opposites. The differing approaches have helped me keep my work fresh and, though the techniques involved are specific to each, ideas that develop in one type of work carry over to inspire something new in the other.
I have developed a range of techniques to help alleviate many of the problems associated with using porcelain. The glazes I use are rich and fluid and I often alter or texture the forms to emphasize the qualities of clay and glaze. Most alteration is carried out on the wheel while the clay is still soft.
The forms I make for the wood kiln are based on relatively simple elemental shapes that will act as three dimensional canvases to illustrate the effects of the firing. Pots are often larger, enclosed and thrown in sections.
Recently I have been trying to increase the contrast within the pot and the depth of surface that I am able to achieve. To do this I have been using a black, high iron, clay body that is then layered with various slips. These shrink at different rates and often crack, or crackle, over each other. When my fluid celadon glazes are applied over the top the colour of the clay bleeds through these layers creating a unique surface."
Matthew Blakely 2011
You'll find further information and images of Matt's pots on his own website.