Antje Ernestus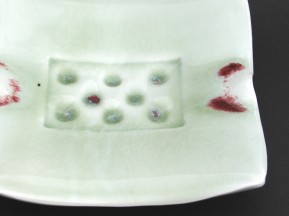 Originally from Germany Antje studied at Camberwell College of Art, London. She lives and works in North Norfolk.
Antje has been working with porcelain and high temperature glazes since 2004 using a combination of throwing and slab building techniques. In her bowls and platters she plays with edge lines, gestures and markings in plastic porcelain, then uses fluid glazes to work with the forms and surfaces and add layers of depth and colour.
The glazes are a combination of celadon, wood ash and copper red. Pots are fired in a gas kiln to 1300 C reduction
Antje is a professional CPA member and exhibits widely in the UK. For further information and images of Antje's work, please click here.