Petra Steward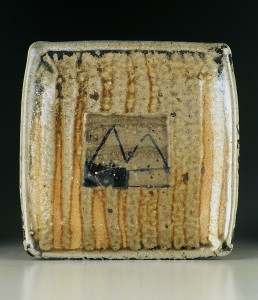 Petra Steward (nee Reynolds) trained in the South East and then on degree at Cardiff before joining Wobage in 1995.
Petra's innovative techniques in slab-building and decorating have in recent years earned her a reputation as one of the leading contemporary makers in the UK. Construction begins with one of many paper templates. Clay slabs are then cut around, mitred, bent and folded into a range of domestic shapes.
The inspiration for her decoration is many fold. From playful experimentation with line, pattern and composition, sketches evolve firstly on paper into monochrome or colour monoprint and collagraph. Decoration on pots takes place at the leather hard stage using slips and glazes. Initially slips are layered with brushwork, pouring and paper resist. This provides canvas for a more linear decoration which is achieved by a form of printmaking.
Motifs are drawn from an array of different objects and observations bringing to life a new and ever-changing vocabulary of marks and compositions. The pots are once-fired to 1300C with salt & soda in a wood-fired kiln.