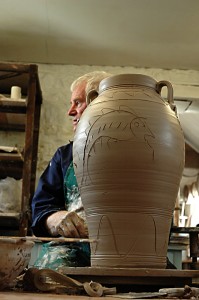 With the broadleaf colour beginning to appear and a wee chill of an evening a sign of the end of the Mediterranean Summer we've enjoyed in rural Herefordshire,  a little time to reflect upon an inspiring season of workshops at Wobage. Fully booked courses, some terrific new visiting demonstrators, notably Tavs Jorgensen and Clive Bowen along with an abundance of enthusiastic students. Sincere thank you to all for making such a rewarding time, also thanks to our Summer apprentice Ana Simmons for her participation and hard work.
Here are a small selection of pic's from the last couple of months, more to follow. If any participants from over the Summer have any good photos that they'd like to share, then please forward them via e-mail or CD, from which we can post them up or forward to other students.
Pots selected for firing are steadily being processed and will be ready for collection later in the Autumn. We will contact you as soon as they are ready. The 2012 course programme will be finalised in the next few weeks and made live on the website in November.