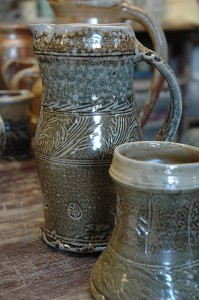 A student from last Summer's course programme, potter Sylvia Holmes, has written review of Jeremy's 5 day throwing/salt glaze course, published in regional potter's association newsletters. Here follows the article:
"I was recently luck enough to attend a five-day throwing workshop taught by Jeremy Steward at Wobage Workshops, near Ross-on-Wye in rural Herefordshire. We had a wonderful time: good company, good teaching, good lunches, in a lovely and peaceful setting. The students on the course ranged in throwing skill level from intermediate to very advanced. Jeremy, a patient and good-humoured teacher and demonstrator, generously shared with us the techniques he uses to achieve his signature fluid and lively salt-glazed forms. Also at the workshop was Sheila Herring, apprenticed to Jeremy under the Adopt a Potter scheme, who was immensely helpful throughout. After an inspiring slide-show of selected salt-glazed ware from around the world, we started work by collecting ideas for surface treatments, using the immediate studio surroundings: a yard full of gorgeous piles of seasoning timber, beautiful old tiles, slates, stones, old pots, lichens, plants and machinery. We then simplified and refined our designs (drawing against the clock was one memorable technique used!)
Back in the well-equipped studio, we experimented with applying our designs onto clay extrusions, using mono-printing, brushwork, finger-wiping, rouletting and various other application techniques appropriate for salt-glaze firing. We then focused on making shallow thrown and altered forms: making ovaled, squared and free-form dishes and platters. Later, we began applying our chosen surface designs and treatments to these forms and moved on to making thrown and altered taller forms. We also explored ways to improve our basic throwing techniques, plus the use of throwing ribs of various kinds, profilers, handle and foot-making and rolled rim-making. Particularly helpful was two-person throwing with Jeremy which allowed us all to experience what expert throwing feels like. Turning a 5lb lump of clay into a perfectly even tall vessel in just three lifts was certainly a first for me!
The clay we used (an iron-bearing stoneware made at Wobage) is absolutely wonderful for throwing – very plastic and yet very strong – certainly the most forgiving throwing clay I've ever encountered. Hopefully this clay and an iron-free whiter version will become available commercially in the future.
Of the very many vessels that were produced over the five days, we were asked to select six each for salt-firing at  a later date, others could be taken home green or left for bisque firing.
During the course, we had an interesting demonstration of jug-making, faceting and free form building from Josh Redman, a new member of the Wobage team. We also enjoyed a trip to Wally Keeler's home and studio/gallery. This was a real treat: Wally was very generous with his time, patiently explained his making and firing processes, and kindly showed us round his studio, lovely garden and home full of gorgeous pots. On the last evening, we had pizza and film night – home-made pizzas cooked in a proper wood-fired hand-built oven in the courtyard – Yum! Each day, tea, coffee, delicious cakes and biscuits were available, and everyone brought contributions to a shared lunch, eaten under a sailcloth awning in the garden. The setting is marvellous, with beautiful views across the countryside, lovely old buildings in a courtyard arrangement, including a gallery, and an ancient barn recently refurbished to display a Mick Casson retrospective. There is a small flat available to rent, book early to avoid missing this. Camping is free on site. There is plenty of reasonably priced B&B accommodation available locally.
In summary, time spent at Wobage will be time well spent: relaxing, stimulating and enjoyable. What more could you want? I was certainly sad to leave and hope to return one day soon."