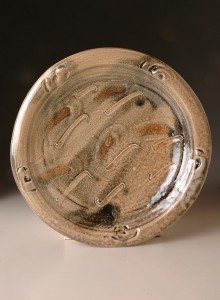 Jeremy and Patia are currently exhibiting at Ruthin Craft Centre in North Wales, a mixed show featuring 12 makers and entitled 'Slip'. To paraphrase curator Gregory Parsons, the materials and techniques may be simple, but the results can be astounding. With a range of practice that spans the traditional to the modern and contemporary, the work demonstrates without doubt that the use of slip continues to evolve as a vital medium for creative self-expression in the 21st century. The exhibition continues in Ruthin Gallery 3 until 12th June 2011.
Here follows a short essay written by Jeremy for the exhibition catalogue.
"I use slip in various forms in the making of my high-fired salt-glazed stoneware and porcelain. Along with the term 'slipware', slip is much more commonly associated and categorized with the tradition of lower firing temperatures and brightly coloured earthenwares, such as the magnificent chargers of Thomas Toft and other Staffordshire lead-glazed pottery of the late 17th and early 18th centuries. I hold a deep respect for these potters and their skillful, exuberant and playful use of slip in it's wet state. Indeed, it was with reference to this vernacular that I feverishly began experimenting with slip as a student.
Exactly how the many and varied techniques which the Staffordshire potters employed, first made their way into common use will never truly be known. However, I am certain that we share with these makers a motivation that is primal, for the sensuous qualities of the very material itself. Submerging a full armful of the gorgeous stuff is only the beginning; thick, creamy and smooth, the slip is stirred and paddled to ensure an even liquid suspension before it's use. In common with generations of artistic endevour, we find the development of the materials in our hands, lends us the freedom to run with new ideas.
The ingredients are often basic, at it's simplest a single clay suspended in water. A combination of clays is often blended, sometimes with a small percentage of oxides for colour and other additions to alter surface quality or firing maturation. Despite this frequently simple composition, slips underpin a limitless wealth of creative possibilities and sophisticated surfaces.
The influence of slip on my making begins on the wheel from where most of my shapes evolve. With the wet scragfitto of  marks often made directly onto the wet clay surface of the slowly revolving pot, I am envisaging this vocabulary of drawing soon to be cloaked in a thick veil of ball clay slip. Rather like multiple layers of limewash applied to a vernacular stone building, detail and edges are softened, overall composition unified. This is usually the first of at least one other layer of slip, which will be applied later for colour or surface variation to part or all of the pot. Over many hours, or often several days of drying and reapplication of different slips and related mark-making, this layering and re-working keeps the clay alive and crisp. Along with it, the inherent risks of raw slipping and glazing for the work to collapse under renewed water saturation from the freshly applied ingredients.
Working as I do, alongside a small community of other artists, I am periodically mocked for my 'multiple slipping' habits, with pots unashamedly indulged in five or six slip or raw-glaze treatments before being finally allowed to rest in preparation for firing. "Surely…" they mock in jest, "I could compose a single ingredient that would do the same thing in one go?" Fear not! Slip in this way continues to form a crucial aspect to the improvisation of new ideas, and the expansion as well as honing of a compelling range of fired surfaces.
The creative development of these slips is integral to the methods used to complete their vitrification, wood-fired salt-glaze. The fly ash from the fuel and the sodium from the volatilized salt applied to the white heat of the kiln, combine with the slipped surfaces to produce the melt. Subjected to the vagaries of kiln atmosphere and flame movement, the resulting pots celebrate a meeting between the conscious application of ingredient and the unpredictability of nature."