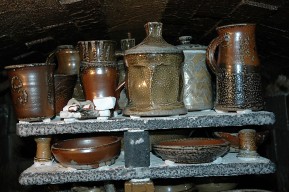 The 10 week block of Summer evening classes are now upon us. A most enjoyable term for the light evenings  and the warm gently breeze that predominates over Wobage's microclimate! Perfect conditions, we anticipate but don't guarantee, for much quicker drying and pot turnaround of an evening. Wednesday and Thursday class numbers are already up to maximum, however there are still places available for Josh's Friday class. Any budding amateurs or complete beginners, keen to improve skills, or try their hand for the very first time with soft clay on the wheel, please get in touch asap to reserve your place.
Looking forward to the Autumn term, beginning September 2011, at least one place will become available on Jeremy's Thursday's class. It also seems likely that due to popular demand, Josh's class will change from a Friday to a Tuesday. We look forward to welcoming some new students to Wobage over the coming months.
You'll find more detailed information about our evening classes on our course pages. For availability you can contact us from our booking page, following which someone will contact you. The image above features salt-fired pots made and decorated by evening class participants on Jeremy's Thursday course.