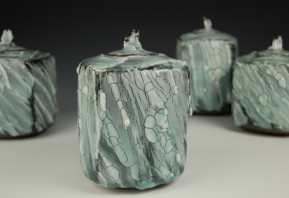 Led by Jeremy Steward and Patia Davis, the pottery at Wobage Workshops is delighted to introduce it's teaching programme for 2012, which this year expands with the introduction of some brand new courses. Large-ware thrower from Norfolk, Stephen Parry, guests alongside Jeremy Steward on a five day 'Big Improvers' course, focusing upon extending student skills in advanced wheel-throwing. This will begin with techniques in single piece throwing and moving on to various methods of multi-part throwing and assembling.
Matthew Blakely guests alongside Patia Davis for demonstration and lecture in wheel-thrown porcelain. Alongside one to one tuition, Patia and Matt will each demonstrate their softly thrown and altered porcelain, carefully scheduled into the 5 day curriculum to assist with student's own creative progress and evolving skill base. Matt, a fervent glaze wizard, with also be presenting students with a practical approach to making and developing their own glazes for high-firing.
Bridget Drakeford joins Patia for a new course in Teapot making. On this 5 day course, students will tackle the making of separate components before considering the subtle relationships of these and how they come together to make a harmonious and unified whole. Encouragement will be given to students to express their own personal creative response to the teapot, whilst at the same time considering proportion and rightness of purpose; it's ability for pouring and potentially solving some of  it's trickiest problems, 'the dribblesome teapot spout!'
Guesting on Jeremy's 5-day Jug making this year is Nigel Lambert. Nigel's slip-decorated wood-fired earthenware is fast earning him international recognition. HIs thrown and altered beaked jugs possess a majestic poise. Set with his inimitable style of decoration and strong sense of function, they are a joy to behold. Wobage is most looking forward to his contribution in tutorial and demo.
Each course invites a maximum of 8 students, each with their own power wheel for the duration of each course. These are predominantly Rayefco, but also Alsagers and Shimpos. Each Rayefco is now fitted with a hand control lever for foot free throwing and decorating. This will come into it's own during the 'Big Improvers' course this Summer. Courses are carefully designed individually, revolving around specific areas of production and student creative development. There is opportunity to work with different clays, stoneware, earthenware and porcelain, depending upon the focus of the course and the tutors assigned to it. Dual emphasis is focused upon developing skills alongside experimentation and strengthening individual expression. Regular demonstration and visual presentation feature in each course, however we aim to offer students as much time as possible for their own making.
Courses begin at 10am on the first morning, completing at 4pm on the last day. Tuition hours are otherwise 9am – 5pm. Delicious home-made vegetarian lunches, along with morning and afternoon refreshments are included in prices.
Christmas gift vouchers for all of our individual courses are available, either for deposit only, or the full course balance. Please use the booking/availability section of this website.