Thrown & Altered – Improvers – 3 & a half days 11th-14th July 2019
11th - 14th July 2019
£ 120.00
£ 325.00
Intermediate and advanced
Jeremy Steward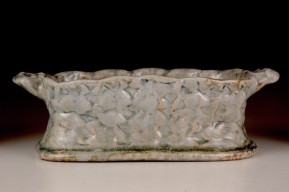 Spread over 3 and a half days, this course is aimed at more experienced makers to develop key skills in thrown and altered forms. The course will cater for intermediate and advanced students at different levels of capability.
For millennia, the art and craft of wheel throwing has most often been associated with symmetrical and round pot-making. During this course, students will be encouraged to experiment with everything else but round form! Jeremy will demonstrate a variety of throwing and altering techniques, to create oval, square, rectangular, triangular and free-form shapes. A strong emphasis will be placed upon developing loose base making, where loose walls are thrown and altered and placed onto slabbed bases. For this season, we have a new large slab-roller at Wobage to cater for your prolific slab-rolling! This technique is especially useful for a gamut of oven bakers and shallow-walled forms.
We will investigate other age-old methods of fixed-base form alterations, where clay is strategically cut and removed, to allow thrown shapes to be teased and cajoled into soft ovals, squares and rectangles. One-to-one and group tutorial will be tailored to inspire students to develop a range of new skills and to imaginatively expand upon their own individual range of pots. Tuition will also be available in wedging techniques for those wishing to extend their core clay prep' skills.
The studio invites a maximum of 9 students for this course. Each participant will enjoy unlimited access to a power wheel for the full duration. These are Fitzwilliam Rayefcos and Alsagers. Most of the Rayefcos have hand-ratchet control which is of benefit for throwing larger forms. There is also a Saviac kick-wheel available should one student prefer to use it. All students will use Jeremy's stoneware throwing clay.
It will be expected that students attending this course will already have some experience in wheel throwing. The course will obviously cater for students at different levels of capability. However, applications are welcome only from students who are confidently already able to centre, and to comfortably lift-up approximately a kilo or more of clay into an upright shape.
The course begins on the afternoon of Thursday 11th July 2019, 2pm – 5pm. Tuition hours otherwise are 9.30am-4.30pm. The course fee includes home-made vegetarian lunches along with morning and afternoon refreshments. More information about Jeremy Steward is available on the Tutors Pages.
Students will be invited to select two favourite Thrown & Altered pots to be salt-glazed and wood-fired at a cost of £4/lb. Further pots may be selected for bisque firing which is priced at £1.50/lb or work can be taken home green at £1/lb.
To find out about availability or to book a place please visit the booking page.
There are 9 confirmed places for this 'Thrown & Altered' course, so it is currently full. Please send us an availability enquiry via the booking page if you would like us to add your contact details to the reserve list. We do occasionally receive cancellations in the lead up to our courses season. Presently there is one prosepective student on this reserve.

There is however, further availability in our Improvers courses season, see details for 'Just Mugs' 18th-21st July.