Lidded – 4½ day Improvers – 11th-15th July 2022
Mon.11th - Fri.15th July 2022
£150.00
£540.00
Intermediate & Advanced
Jeremy Steward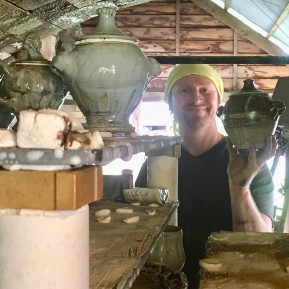 Spread over 4½ days, this course is aimed at more experienced makers to develop their Lid-making skills. The course will however cater for intermediate and advanced students at different levels of capability. Intermediates may prefer to develop jars and casseroles, whilst those with more experience may wish to work exclusively on teapots.
Students will be encouraged to experiment with different scale and style of vessel. A strong emphasis will be placed upon developing different configurations for lids and galleries. We will also cover clay preparation and wedging techniques along with the range of throwing techniques required to make better upright and spherical forms more efficiently and confidently. Students will be encouraged to look closely at the weights and measures of their pots and to challenge these in relation to ergonomics and fitness to purpose. One-to-one and group tutorial will be tailored to inspire students to develop new skills and to imaginatively expand upon their own individual range of pots.
The studio invites a maximum of 9 students for this course. Each participant will enjoy unlimited access to our high-quality stoneware clay, and a power wheel for the full duration. The wheel models are predominantly Fitzwilliam Rayefcos along with a couple of Alsagers. There is a Saviac kick-wheel if anyone prefers to treadle their way to their ultimate teapot-making!
The course begins on the afternoon of Monday 11th July, 2pm – 5pm, completing at 4pm on Friday 15th. Tuition hours otherwise are 10am-4pm. The studio is freely available for students to work outside of these hours, early or late. Fabulous home-made vegetarian lunches along with morning and afternoon refreshments are included in the price of this course.
Students will be invited to select two favourite pots to be salt-glazed and wood-fired at a cost of £4/lb. A maximum of 4 further pots may be selected for bisque firing, priced at £1.50/lb and as much work as you wish can be taken home green at £1/lb.
More information about Jeremy Steward is available on the Tutors Pages
This course has received a late cancellation, so if you are interested in joining this course, please visit the booking page and register your details.