Just mugs! – Improvers – 3 & a half days – 18th-21st July 2019
18th-21st July 2019
£ 120.00
£ 325.00
Intermediate and advanced
Jeremy Steward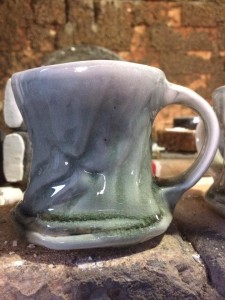 Any regulars at Wobage, will already be familar with our partiality for tea-drinking, and just as importantly, our love of beautiful mugs to go with it! We adore making them too, and can't wait for this 3 and a half day course where we will focus exclusively on the humble mug in all it's forms, from smallest espresso to large tankard.
Students will be encouraged to look closely at the weights and measures of the pots they make, and to challenge these in relation to ergonomics and fitness to everyday purpose. We'll look at ways of improving throwing accuracy and consistency with the use of a pointer. But in addition to these more formal aspects of repetition production, the course will explore aesthetics and different ways in which repetition can be used creatively and experimentally.
Needless to say, handling will also be a key feature of this course. If you've a handling demon that needs crushing, maybe this is the course for you! Alongside the most traditional and long-favoured methods, we'll also explore extruded and more sculptural handle-making. One-to-one and group tutorial will be tailored to inspire students to develop a range of new skills and to imaginatively expand upon their own individual range of pots. Tuition will also be available in wedging techniques for those wishing to extend their core clay prep' skills.
The studio invites a maximum of 9 students for this course. Each participant will enjoy unlimited access to a power wheel for the full duration. These are Fitzwilliam Rayefcos and Alsagers. There is also a Saviac kick-wheel available should one student prefer to use it.  All students will use Jeremy's stoneware throwing clay.
It will be expected that students attending this course will already have some experience in wheel throwing. The course will obviously cater for students at different levels of capability. However, applications are welcome only from students who are confidently already able to centre, and to comfortably lift-up a kilo or more of clay into an upright shape.
The course begins on the afternoon of Thursday 18th July 2019, 2pm – 5pm. Tuition hours otherwise are 9.30am-4.30pm. The course fee includes home-made vegetarian lunches along with morning and afternoon refreshments. More information about Jeremy Steward is available on the Tutors Pages.
Students will be invited to select three favourite mugs to be salt-glazed and wood-fired at a cost of £4/lb. Further pots may be selected for bisque firing which is priced at £1.50/lb or mugs can be taken home green at £1/lb.
To find out about availability or to book a place please visit the booking page.
This course currently has 9 confirmed places, so no places remain available. ( as of 11 June 2019) We occasionally receive cancellations running up to start dates, so if you would like to join the reserve list for this course, please contact us via the booking form.