WHEEL-THROWING Taster – 3 hrs – Beginners. WAM 2017
Saturday 16th September 2017
10.00am - 1.30pm
£42.00
£42.00
Beginners
Jeremy Steward
Wobage Throwing Studio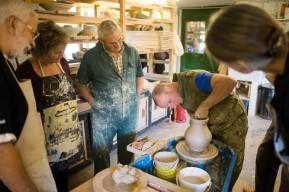 Just one further place is available for this half-day course.
This 3 hour clay session is a taster aimed specifically at beginners who have done little or no wheel-throwing before. It may also be suitable for those that have had a long break from clay-work and wheel-throwing. With demonstration and one-to-one tuition, Jeremy will cover the range of basic throwing techniques required to make bowls and small upright forms in stoneware. End product is not a feature of this course, but each mudslinger may take home one of your hard-won wet pots as a momento of your morning.
The studio invites a maximum of 9 students 18 yrs+ for this course. Each participant will enjoy unlimited clay and access to a power wheel for the full duration. The course fee includes refreshments.
Pre-booking is essential if you would like to participate in this workshop. Your place is secured with a completed booking form and payment in full. Places are limited. For availability and further details please contact us via the booking page.
WAM (Wobage Artisan Market) is delighted to be offering our visitors the opportunity to participate in a selection of taster workshops provided by several of it's professional makers. These workshops will take place throughout the duration of h'Art, (Herefordshire Art Week's Open Studios) preceeding and including Saturday 16th September. For a full list of WAM short courses this September 2017, please visit The Wobage Artisan Market website
photo: Ben Boswell