Clay-Brainstorming – 3½ day Improvers – 29th July-1st Aug 2021
Thurs.29th July - Sun.1st August 2021
£120.00
£355.00
Intermediate & Advanced
Jeremy Steward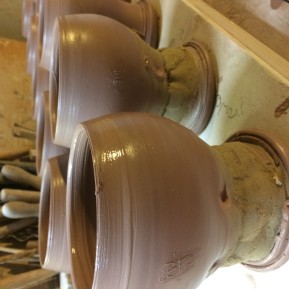 Needless to say, we absolutely love making pots! But in what ways is our journey enriched with the fresh enquiry of ideas? This course seeks to provide ideas for risk taking and creating new outcomes, which may then become individual to you, to try and help you to develop unexpected ways of seeing and making. Students will use our high-quality stoneware clay for this experimentation. They will be encouraged and supported by Jeremy to explore specific exercises to brainstorm, invent and expand upon new work. Students can choose whether or not they'd prefer to work within the framework of particular functional items, but the course will be less driven by design and preconceived end product, and rather more by playfulness and the materials and processes of soft clay, slip and wheel-throwing.
It will be expected that students attending this course will already have some experience in wheel throwing. The course will obviously cater for students at different levels of capability. However, applications are welcome only from students who are confidently already able to centre and to comfortably lift-up 2 or more pounds of clay into an upright shape.
The studio invites a maximum of 9 students for this course. Each participant will enjoy unlimited access to our high-quality stoneware clay, and to a power wheel for the full duration. The wheel models are predominantly Fitzwilliam Rayefcos along with a couple of Alsagers. There is a Saviac kick-wheel if anyone prefers to treadle their way to brainstorming bliss!
Whilst this course is specifically designed to advance skill base and new ideas, as opposed to developing finished work, students will be invited to select and leave behind a maximum of 2 pieces to gloss-fire in one of Jeremy's wood-salt kilns. A maximum of 4 further pots or ideas may be selected for bisque firing, priced at £1.50/lb and as much work as you wish can be taken home green at £1/lb.
The course begins on the afternoon of Thursday 30th July, 2-5pm. Tuition hours are otherwise 10am – 4pm. The studio is freely available for students to work outside of these hours, early or late. Fabulous home-made vegetarian lunches along with morning and afternoon refreshments are included in the price of this course. Also included, a Saturday evening of wood-fired pizza where students will make and bake their own in the Wobage outdoor oven!
More information about Jeremy Steward is available on the Tutors Pages.
For availability and further details for booking this course, please contact us via this link to our Booking Page.
This course currently has 6 confirmed bookings, and therefore 3 places remain available.