Big Improvers – 4½ days – Jeremy Steward & Jack Welbourne – 26th-30th July 2022
Tues.26th - Sat.30th July 2022
£200.00
£575.00
Intermediate & Advanced
Jeremy Steward & guest Jack Welbourne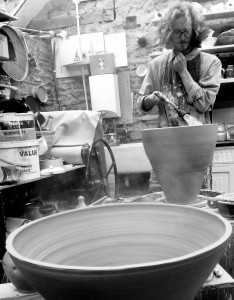 This course is designed for makers to develop more advanced techniques in wheel-throwing. We are delighted to welcome Jack Welbourne, to tutor alongside Jeremy for the final two days of this course.
Jeremy and Jack will demonstrate and provide one to one tutorial, in a range of techniques in throwing and assembling larger forms. We guarantee that we will improve your skills in throwing more clay, more comfortably. This will begin with techniques in single piece throwing and move on to various methods of multi-part throwing and assembling. This will include multi-part wet throwing, a method often coined 'Carolinian Capping', as well as 'Coil and Throw'. We will teach how to make good coils for this process, but for speed and space-saving, we will predominantly use extruded coils during the course.
It will be expected that students attending this course will already have significant experience in wheel throwing. The course will obviously cater for students at different levels of capability. However, applications are welcome only from students who are confidently already able to centre and comfortably lift-up 2 or more pounds (1 kilo) of clay in to an upright shape. If you are unsure what level you are at, please don't hesitate to get in touch for a chat.
This course is specifically designed to advance skill base and ideas, and in contrast to all of the other courses on the 2022 programme, Wobage will not be inviting students to select any of the work that is made during the course for either bisque or gloss fire. Students may take home any of the work that they make, green, for which there will be a clay charge of £1 per lb.
The studio invites a maximum of 9 students for this course. Each participant will enjoy unlimited access to a power wheel for the full duration. These are predominantly Fitzwilliam Rayefco's, all of which are now fitted with hand controls to enable pedal-free throwing for large pot-making. The studio also accommodates a couple of Alsagers.
The course begins on Tuesday 26th July, 2pm-5pm, completing at 4pm on Saturday 30th. Tuition hours are otherwise 10am – 4pm. The studio is freely available for students to work outside of these hours, early or late. A fabulous home-made vegetarian lunch along with morning and afternoon refreshments are included in the price of this course. Also wood-fired pizzas from the Wobage oven on the evening of Friday 29th.
More information about Jeremy Steward is available on the Tutors Pages. Further information on Jack will soon also be found on our tutor pages.
This course is now fully booked for July 2022. Nearer to the date of our Summer schools season, we often receive cancellations, so if you are interested in joining this course, please visit the booking page and register your details. You will then be added to a reserve list and contacted in the situation of a place becoming available.