5-Day-Porcelain throwing, in Amsterdam, April 2017
24th-28th April, 2017
intermediate/advanced
Patia Davis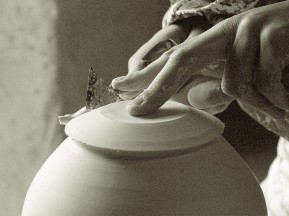 We are delighted that Patia has been invited to run this five day porcelain throwing course in Holland  We hope you will be inspired to join her there!
She will will be teaching at the Baampottery, which is in Baambrugge, just outside Amsterdam. In her own porcelain practice Patia's work is about trying to retain the fluidity and softness of the thrown form. She is also interested in 'freeing up' from the symmetry of the wheel, for example by changing the line of form, giving the pot a lean, dimple or dent. These alterations are done both on and off the wheel by removing the pot from its base, making a subtle softening of an edge, rim or shoulder and base shape before re-attaching it.  Patia  is  interested in the 'feel' of a piece when working out its 'form'.
Patia will lead students to explore their own way of assembling their pots. Using component parts students will begin by throwing simple forms. She will help students move their ideas more fluidly;  by 'Throwing off the hump' they will be able to produce a series of pieces to make two and three part maquettes …component parts to make a unified whole. Students will be able to firm up or reject an approach before committing to larger pieces both by drawing on paper and working directly at the wheel. Students will be encouraged to decide how they work best… we are all different.
Patia will demonstrate her personal approach to slip decoration and will allow students plenty time to decorate their pots too.  Patia and her students will be using Audrey Blackman porcelain.
Full details and booking for this particular course will administered by Margreet from, Baampottery.