4-Day-Jar making/slip decorated Earthenware, July 2017
13th to 16th July 2017
£142.00
£392.00
intermediate/advanced
Patia Davis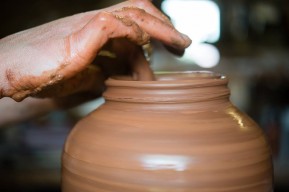 This jar making course will run over 4 days. Patia makes jars in both porcelain and earthenware; enjoying large round jars and altered lidded forms in terracotta and screw threaded jars in porcelain. Drawing on some of the methods Patia uses,  she will  encourage  personal experimentation. Looking at, and throwing the various lid fittings, and how form and lid complete an aesthetic. One is not the after thought to the other. Turning and handling, along with decorative slip techniques will complete your  few days of jar making.
Patia will help you to select the best 4 pots which she will later raw-glaze and gloss fire, for students to collect at a later date. A charge in addition to the course fee will be made for fired pots, £1.50/lb for biscuit and £2.50/lb for gloss firing. The studio invites a maximum of 9 students for this course.
The course begins at 10am on the first morning, completing at 4pm on the last day. Tuition hours are otherwise 9.00am – 4.00pm. The studio is freely available for students to work outside of these hours, early or late. A home-made vegetarian lunch along with morning and afternoon refreshments are included in the price of this course. More information about Patia Davis is available on the Tutors pages. To find out about availability or to book a place please visit the booking page.