2-day Wheel-Throwing, Beginners – June 2018
28th and 29th June 2018
£80.00
£190.00
Beginners
Jeremy Steward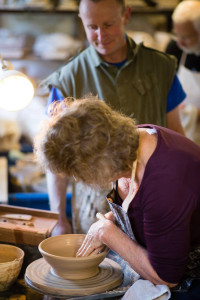 This intensive 2 day course is aimed specifically at beginners who have done little or no wheel-throwing before. It may also be suitable for those that have had a long break from clay-work and wheel-throwing. It will cover clay preparation and wedging techniques along with the range of throwing techniques required to make bowls and small upright forms in stoneware. The second day will cover turning and handling techniques.The studio invites a maximum of 9 students for this course.
Each participant will enjoy unlimited access to a power wheel for the full duration. These are Rayefco and Alsager.Tuition hours are 10am – 4.30pm on Thursday and 9.30am – 4pm on Friday. The course fee includes home-made vegetarian lunches along with morning and afternoon refreshments. More information about Jeremy Steward is available on the Tutors Pages.
Students will be invited to select one favourite pot to be salt-glazed and wood-fired at a cost of £3.80/lb. A maximum of 3 further pots may be selected for soft-firing with an earthenware honey glaze at a cost of £2.00/lb. Bisque firing is priced at £1.50/lb or work can be taken home green at £1/lb.
For availability and further details should you wish to join the course, please contact us via our Booking Page.
(photo credit: Ben Boswell)